440A/B/C stainless steel sheet and plate
Density: 7.8 g/cm³
Thickness: 0.5-50mm
Width: 600-2000mm
Length: 1000-10000mm
Surface: No.1,1D,2D,2B,NO.4/4K/hairline,satin,6k,BA,mirror/8K;
Equivalent designations:
440A, UNS S44002, DIN 1.4109;
440B, UNS S44003, DIN 1.4112;
440C, UNS S44004, DIN 1.4125;

Inquiry
Product introduction
440A
stainless steel has excellent quenching hardening properties and high hardness. It has higher toughness than 440B steel and 440C steel. Used as cutting tools, measuring tools and bearings.
440B
stainless steel has higher hardness and toughness than 440C steel. 440B stainless steel is used for cutting tools, measuring tools, bearings and valves. Suitable for bayonet blade.
440C
is a martensitic stainless steel with higher carbon content than 3Cr13 steel, so its strength and hardness are higher than 3Cr13 steel. Other properties are similar to 3Cr13 steel, but its weldability is poor. It is usually not used as welding material. It is used to manufacture surgical medical tools. 440C also has better dimensional stability at high temperature, and can produce corrosion-resistant high temperature bearings and temperatures not exceeding 250. Cutting tools at C. 440C has high hardness, good corrosion resistance and magnetism after quenching.
440 stainless steel characteristic:
High hardness and good wear resistance.
The annealing temperature of 440C is very low, its hardness usually reaches HRC56-58.
Corrosion resistance and toughness are very strong.
Application:
knives, cutting tools, measuring tools, bearings, tableware, turbine blades, nozzles, valves, rulers, scissor.
Chemical composition:
Grade
UNS
Chemical Component %
C
Mn
P
S
Si
Cr
Mo
440A
S44002
0.60-0.75
Max 1.00
Max 0.04
Max 0.03
Max 1.00
Max 16.0-18.0
Max 0.75
440B
S44003
0.75-0.95
Max 1.00
Max 0.04
Max 0.03
Max 1.00
Max 16.0-18.0
Max 0.75
440C
S44004
0.95-1.20
Max 1.00
Max 0.04
Max 0.03
Max 1.00
Max 16.0-18.0
Max 0.75
Chanson Metals provide:
1. Professional packing team guarantee goods arrive in good condition (anti-wet paper +wooden pallet)
2. Professional loading team avoid package damage
3. Goods label with traceable batch number and shipping information
4. Leveling machine and polishing machine makes various size and surface available.
5. Varous sizes and materials stock more than 1000 tons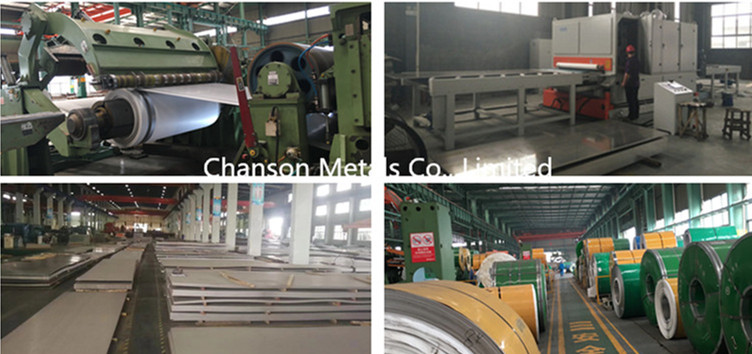 Send your message to us :